ELECTRIC HOIST
Electric Hoist is an equipment which is used to lift & transport material from one place to another along a defined path. Electric Hoist is suspended from a monorail beam and it moves along the monorail. The electric hoist is operated & controlled through pendant or remote. The standard lifting capacity of hoists are 1T, 2T, 3T, 5T, 10T, 15T, 20T, etc.

Depending upon the type of lifting medium the electric hoist may be classified into :
(i) Electric Wire Rope Hoist
(ii) Electric Belt Hoist
(iii) Electric Chain Hoist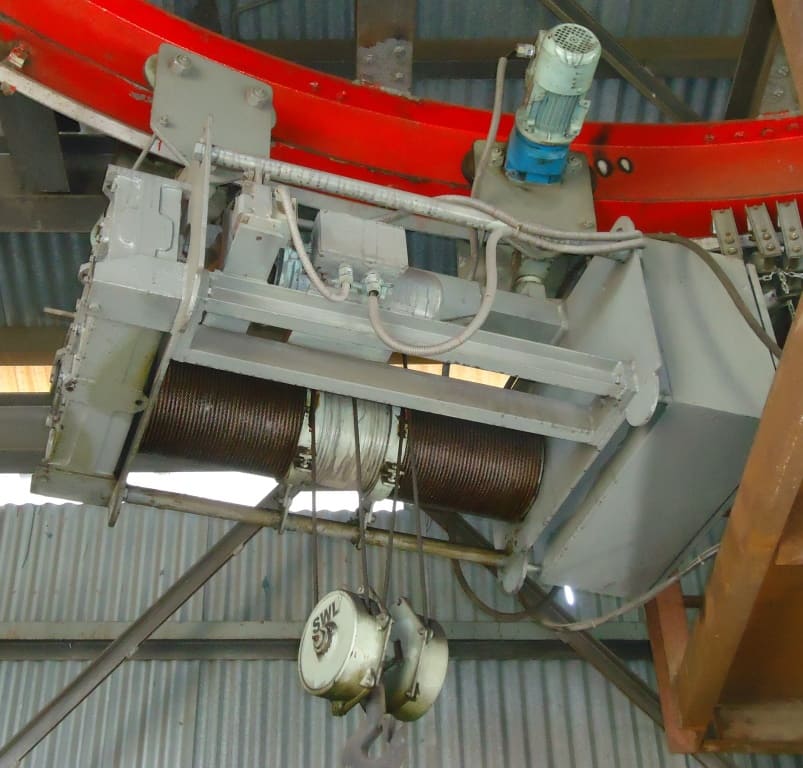 Wire Rope Electric Hoist
Electric hoist is composed of Hoisting Mechanism and Travel Mechanism fitted into a trolley.
Hoist Mechanism
It consists of a bottom block fitted with a standard swivel hook. The bottom block is suspended from trolley by 2 or 4 falls of wire rope. The wire rope is wound on a grooved drum which is sufficiently long to accommodate the length of rope required for the specified lift of hoist. The hoist drum is driven through motor- gearbox- brake- coupling arrangement. Straight & helical spur gearing are used for all motions. The greabox are totally enclosed type and the lubrcation of gears & pinion is achieved by splash lubrication of the oil within the enclosure. Squirrel cage AC motor is used to power hoist mechanism. DC Drum brake / DC disc brake is used to stop hoist drum at particular position during lifting/ lowering of load.


Travel Mechanism
Travel mechanism consists of drive components to move the hoist along the monorail. It consists of a frame structure which runs on pairs of wheels. A pair of wheels is driving wheels and the other pairs of wheels are driven wheels. The wheels are single flanged with taper / parallel treads to suit to the monorail. The wheels are driven through geared motor arrangement. DC disc brake is used to stop travel motion.

Use our Electric Hoist Design Calculation Software for obtaining design parameters of various components of Wire Rope Electric Hoist.